Custom Cabinetry...
Providing Beauty, Style and Flexibility
Read what our customers have to say...
"We at Truman Heritage Habitat for Humanity are very pleased with the kitchen cabinets and counter tops we received from Missouri Vocational Enterprises (MVE). The cabinet construction, quality, finish and packaging are at the custom professional level. We were in need of a new cabinet supplier when we received a brochure from MVE and requested a quote. [The Marketing Coordinator and Factory Supervisor at MVE was] extremely helpful and accommodating, responding to all of our questions in a timely matter. Through our work with MVE, we were able to supply a better constructed kitchen cabinet to our customers at a lower cost. We look forward to continued collaboration with MVE on future projects."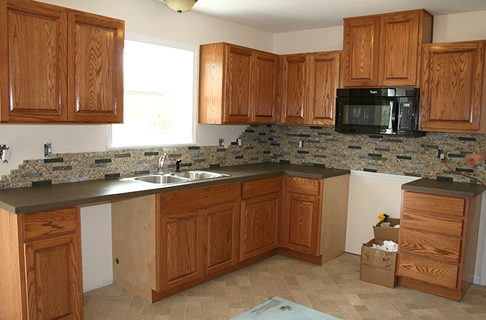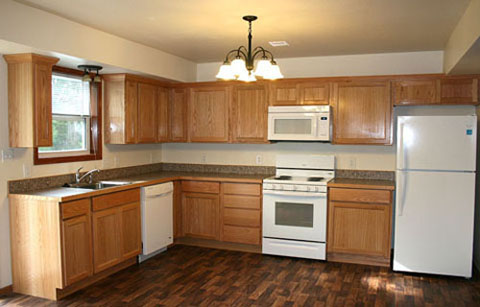 Cabinets are custom designed and handcrafted by MVE's skilled woodworkers. MVE offers two styles of cabinets, wood and Melamine. The material cost for Melamine is less expensive than wood and provides a cost-savings for the customer. Both produce beautiful cabinetry to compliment any décor that will last for years.
Faced in solid red oak, wood cabinet boxes and shelves are constructed with 1/2″ 9-ply Baltic Birch plywood. Melamine cabinet boxes are constructed with 3⁄4″ top quality white melamine for a bright, clean appearance. Door frames are 3⁄4″ solid oak, and available in flat or raised panel design. End cabinets have 1/4″ oak plywood finish cover panel.
Drawers are 1/2″ 9-ply Baltic Birch and feature dovetail joinery in both front and back for strength and durability. Drawer faces are solid oak with integral finger pull. Epoxy-coated drawer slides are rated at 100 lbs. Catalyzed lacquer provides a durable, water-resistant finish that is easy to clean. 1/4″ × 4″ matching toe kick strips supplied with cabinets.
Available in light or dark oak finish.
Quality built, custom laminate counter tops with oak edges, stained to match cabinets, and 4″ laminate backsplash are also available upon request.
Consult an MVE Sales Associate for additional information, 573-751-6663 or 1-800-392-8486.
SECC